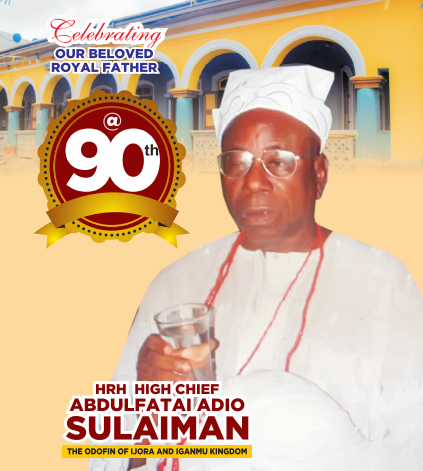 As you celebrate your 90TH on this beautiful day, May everything which concerns you and your household continues to prosper and flourishing.
Hoping this year be one of the best for you.
Happy birthday, BABA ODOFIN .
Dear Royal ,
The gift of a new age is something special to celebrate and a person's birth anniversary is always a great time to send them good wishes and prayers.
Each person in the world gets this one day to feel special as they begin a new year in their life.
Today, we are celebrating you again as you clock another beautiful year. HRH HIGH CHIEF ABDULFATAI ADIO SULAIMAN, THE ODOFIN OF IJORA AND IGANMU KINGDOM.
We admire always, the support and inspirations you have always given to the entire OJORA KINGDOM.

Happy Birthday!
Birthday Greetings From:
ODOFIN YOUTHS
OJORA KINGDOM YOUTHS
THE ENTIRE 7LG&LCDA UNDER OJORA KINGDOM
ROYAL CIRCLE CONNECT, OBA OJORA OFFICIAL MEDIA.
HRM OBA DR ENGR FAO AROMIRE OBA OJORA OF IJORA AND IGANMU KINGDOM CARES
Wishing you abundant blessings from OLODUMARE , peace, joy, success and a week full of positive impacts. Happy Birthday.