Truly! To Allah we belong and truly,to Him, we shall return. We never knew who was Alh Yinusa Akanni Ayoola ONIYAN until after he left us. Our beloved was loved by all and sundry. It was narrated that when Allah loves one of His servants of He (Allah) calls upon angel Jibril to tell him that I love my servant, tell the angels to love him and "Ayyu hannas (the world)to love him.
The above authority buttresses the point that Alhaji Yinusa Akanni ONIYAN was loved by Allah and in return by all who had an encounter with him. That is evident from the number of encomiums after his death.
Hitherto, all we knew was that he was a father, a husband, and a grandfather like any other in whom we are so much pleased. He instilled discipline, patience, and perseverance in us. As a person whom we knew closely, he was faithful and sincere, he loves Allah and was the messenger of Allah in his actions and sayings. He was God Fearing, pious and these are qualities many people have vouched for him.
He perseveres when in distress and is grateful when in abundance. He was at the forefront of conducting religious activities and serving his religion and always stay put within the boundaries of Islamic tenets. These are not ordinary qualities; these are qualities of a good Muslim and a true believer and it's our fervent prayer that he died a Mu'min.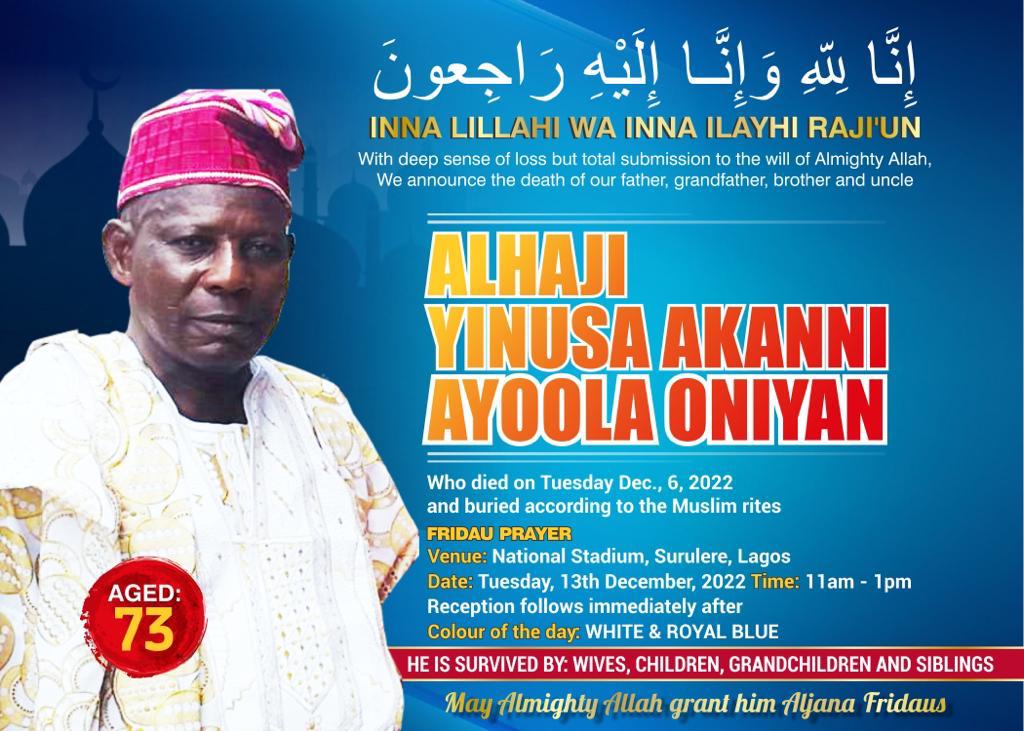 It was reported by Ahmad(4/297) that: "verily when a believing servant is about to leave the world and approaching the hereafter, angels from heaven will come to him with shining faces like a sun, with them a shroud from paradise and perfume/fragrance of paradise. When he takes the soul(angel) and receives it(soul) he will put it in that shroud of perfume/fragrance. We've a good testament that our late father died in such a state and we pray Allah accepts him as a Mu'min.
All these are good signs that as Muslims, we are very hopeful that our father is in a better place. However, for the love, care, immeasurable protection and concern we enjoyed from him, we shall continue to grieve and misses him till our last breath.
We shall remain thankful to Allah the Almighty for his infinite blessings upon our late father and all of us he left behind because truly to Him we shall all return.
I will never forget the unity and humility to the humanity he mandate among us.
It is my prayer that God will help me to fill the vacuum he left behind, and I will love to do better.
Also, using this medium to appreciate the organization my daddy served, they've really stand by us, all our well-wishers, school mates, fellow at work, most especially my boss at work.
ALHAJI Yinusa Akanni Ayoola Oniyan( IS OUR OWN) Will forever be in our hearts.
Royal Circle Connet
Is a Royal kingdom-based outfit with a world-class spirit. Our mission is to connect the Royal kingdoms to world class monarch's Royal kingdom, through our multimedia and social services in the community.
𝐂𝐄𝐋𝐄𝐁𝐑𝐈𝐓𝐘 𝐒𝐓𝐔𝐃𝐈𝐎
Photography & Videography. We render both indoor and outdoor services IN a royal standard celebrity's Photoshoots, weddings, housewarmings etc.
ROYAL CONNECT 𝐈𝐌𝐀𝐆𝐄
Graphics Designs and Printing of all kinds.
ROYAL CONNECT 𝐂𝐇𝐀𝐍𝐍𝐄𝐋 𝐓𝐕
Kings and dignitaries Interviews, Documentary and Event coverages.
Visit Us Today @
ROYAL CONNECT 𝙈𝙐𝙇𝙏𝙄𝙈𝙀𝘿𝙄𝘼 SECTION
@
16, OJORA STREET IJORA OLOYE APAPA LAGOS, INSIDE THE OBA OJORA'S PALACE.
Call: 09026627641, 0704 519 1318.