WORK, AN ANTIDOTE TO STAGNATION
Work helps you gain a sense of pride and self-satisfaction by reaffirming that you can support yourself. With work, you earn money to cover bills and pay for activities in your leisure time. It's becoming more common to see people with disabilities in a wide range of jobs throughout the community.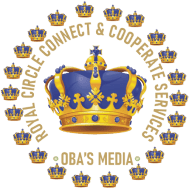 Money: People work to make money. They need money for food, rent, and to have fun with their friends and family.
Independence: freedom to execute your desired plan. Money isn't the only reason to work.
Community: People work to be part of and contribute to their communities.
Let's have a look at some of the basic reasons for working.
Regular Paycheck.
A Sense of Identity.
Intellectual Challenge.
Learn New Skills.
Meet New People.
Access to Community.
Understand the World Better.
Work-life Balance.
Do not be stranded, get something to do.
"YOU CAN'T BE LOADED AND NOT BE NEEDED"
HAVE A BLESSED WEEK AHEAD.
ROYAL CIRCLE CONNECT, OBA'S MEDIA CARES.
ROYAL CIRCLE CONNECT, OBA'S MEDIA
It is a Royal kingdom-based outfit with a world-class spirit. Our mission is to connect the Royal kingdoms to world-class monarchs Royal kingdom, through our multimedia and social services in the community.
𝐂𝐄𝐋𝐄𝐁𝐑𝐈𝐓𝐘 𝐒𝐓𝐔𝐃𝐈𝐎
Photography & Videography. We render both indoor and outdoor services IN a royal standard celebrity's Photoshoots, weddings, housewarmings etc.
ROYAL CONNECT CONSULT
Social Media Management for Public figures, Companies, Organizations & Government, Branding Agent, Website Designs & Development, YouTube Advertising etc.
ROYAL CONNECT 𝐈𝐌𝐀𝐆𝐄
Graphics Designs and Printing of all kinds.
ROYAL CONNECT CHANNEL TV
Kings and dignitaries Interviews, Documentary and Event coverages.
Visit Us Today @
ROYAL CONNECT 𝙈𝙐𝙇𝙏𝙄𝙈𝙀𝘿𝙄𝘼 SECTION
@
16, OJORA STREET IJORA OLOYE APAPA LAGOS, INSIDE THE OBA OJORA'S PALACE.
Call: 09026627641, 0704 519 1318.