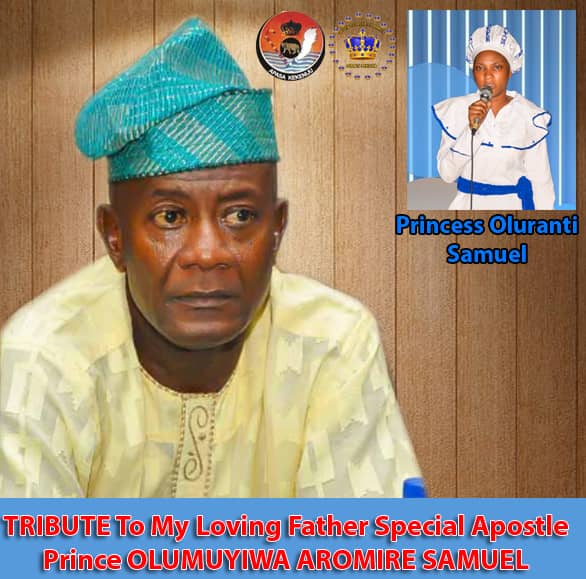 Olumuyiwa Akanni Samuel, omo ojora apasa. Omo oyinbo dudu lode iganmu. Omo a f'oko fun omo t'odun ti ele die. Omo won ni Gbamgbose. Omo won ni ile Ife. Omo Adekunle ati Deborah Samuel. Hmmm, You are indeed a good fellow. You loved and cared for everyone around you. You don't segregate people. Your love for children is compared to none. I know you to be an humble person. You don't disrespect anyone instead everyone's opinion counts. You give to everyone who needs your help. You're not stingy. Everyone is your friend. Your health is too fragile that you don't ever think anyone could do you bad. You confided in people a lot.
Your love for God is one I can't underestimate. You never feared death. You will be like "death doesn't kill by age anymore, so do good while you last". I can't forget this anytime soon. I thank you my papa for bringing me up in the way of the Lord. I'm grateful I experienced you. My childhood wouldn't have been great without you in it. You were a very intelligent man. I could remember your love for biology. You made me love the subject when in secondary school. You taught me when I had problems with my studies. You were very disciplined and I'm grateful it reflected one way or the other in my life. My father loved all of us- all his family. My father loved ME. You would listen to me anytime I want to speak.
I'm grateful to God that you lived a life of purpose. I'm grateful you know God. I'm grateful you died in Christ. I'm grateful you taught me in the way of the Lord. It is your time now to meet the Lord. And now there shall be no more pain. No more sorrow. You fought to live till your last breath. Everything has ended now and I believe you're in a better place. Till we meet to part no more, Sun re baba mi, OMO'BA OLUMUYIWA SAMUEL, I love you but God loves you better.
Courtesy
Royal Connect
Oba's media
My flesh and my heart may fail, but God is the strength of my heart and my portion forever.- Psalm 73:26
Revelation 21:4
'He will wipe every tear from their eyes. There will be no more death' or mourning or crying or pain, for the old order of things has passed away."